Bienvenida Señorita Rivera to Woodbridge High School
At the beginning of the Woodbridge High School 2019-2020 school year, many new teachers have come; one of the teachers is Señorita Rivera; she is the new Español teacher . The Barron Perspective was given the pleasure to interview the new addition to the Spanish department and get to know a little more about her. 
Barron Perspective: What are you teaching here at Woodbridge High School?
Señorita Rivera: I teach Español I, S and R track. I teach three this semester and two next semester. 
BP: What college/university did you study at?
SR: I graduated from New Jersey City University in 2017 and I got my Bilingual Certification at Kean University in the Fall of 2018. [I am] currently attending Kean as well for my masters in Instruction and Curriculum and Bilingual and Bicultural Education. 
BP: Is this your first year teaching?
SR: No, this is my first year teaching Spanish…before [this] I taught Bilingual ESL in elementary school, from first through fourth grade. 
BP: What made you want to become a teacher?
SR: I always loved teaching and helping other students since I was in high school. I originally wanted to teach math…People would always turn to me for help and I would tutor them and I really enjoyed that. It was between that or Ultrasound Tech…I wanted to make an impact somewhere…I have a lot that I can contribute to the children and students. As a person you go through many trials and tribulations in life and sometimes there are people that feel they can't get through that and you have to be there to encourage them.
BP: Are you a native [Spanish] speaker?
SR: I am actually a simultaneous Bilingual Speaker…I was born and raised speaking both languages at the same time. I learned to speak Spanish from my grandparents, because one of my grandmothers did not speak English, at all…they wanted us to maintain the culture. Of course, going to school and with our friends we would speak English and watch cartoons in English. Reading [spanish] was different of course, I actually learned it in church because I wanted to sing. I bettered my writing by taking Spanish in high school. 
BP: What Spanish speaking country are you from?
SR: My family is from Puerto Rico…but I was born here. 
BP: How has your time here at WHS been so far?
SR: So far it's been going great. The students have been very welcoming [and] respectful, also very engaging. They are ready to learn the language and I've taught them that it is okay to make mistakes…to learn a new language, you need to be [okay with] making mistakes. 
BP: What are some things you have prepared for this school year or hope to accomplish?
SR: I want them to get a better understanding of the culture…I want them to understand the Spanish culture even more. [As well as] see how it compares to their own culture…To have a newfound respect for other cultures…and understand how hard it is to learn a new language. Sometimes there are new students [at WHS] that come from their country and are ESL I students and don't know any English…to understand their difficulties. 
BP: Is there anything else you would like to add?
SR: I just hope that all students are open to learning about other cultures and languages…to keep their minds open…to explore the world and that there is more than just Woodbridge, New Jersey.
About the Contributor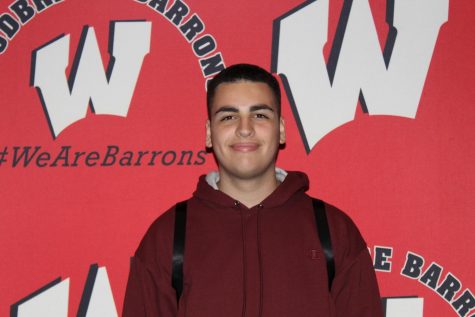 Diego Rolon, Editor
Diego Rolon is a senior at Woodbridge High School and a third-year Journalism student. He was born and grew up in Puerto Rico for a year and then moved...