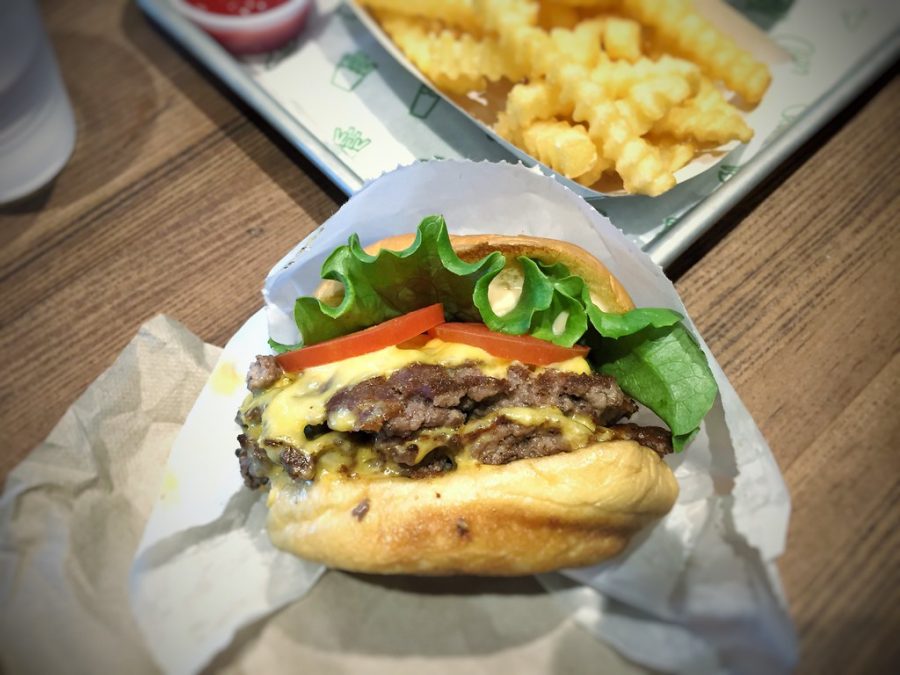 Shake Shack is an American fast-food chain based in New York City. Starting as a food stand in Madison Square Park in 2004, Shake Shack has grown into a multi-million dollar company with more than 200 locations. They are most known for their famous Shack Burger, their crinkle-cut fries, and milkshakes.
My ideal order at Shake Shack is a double ShackBurger, which contains two beef patties, American cheese, lettuce, tomato, and a secret sauce. I prefer the sandwich with no tomatoes, but that is a personal preference. I accompany this sandwich with an order of crinkle-cut fries with cheese. I get the cheese on the side so it is a perfect dipping sauce for the fries. 
Although pricier than other burger restaurants, I believe the prices are justified by the quality of their product. Their burger is by far a better quality burger than other fast food spots such as Five Guys or Wendy's. 
The location itself is clean. For being in a train station, which are usually dirty, this location is very sanitary. The only fault is that since it is a small location, there are very few seating options. However, with such great food, I have no problem standing while I eat my meal. 
For those who do not travel to New York City, there are two New Jersey locations. The closest one to Woodbridge is in Bridgewater Commons. The other New Jersey location is in Livingston.
With a fast-growing company like Shake Shack, I believe that the quality of their food will continue to improve and their success will continue to gradually advance. I hope your experience at Shake Shack will be as great as mine was and that you enjoy all the food you eat.