Fit of the Week: Manahil Haq
Hang on for a minute...we're trying to find some more stories you might like.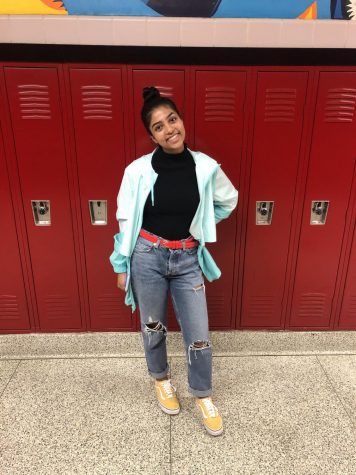 Manahil Haq, a junior, is a student with pride in her style. On Friday, September 13 she was seen wearing a Nike windbreaker, a black turtleneck from Urban Outfitters, "boyfriend jeans" from H&M, accompanied by a red belt from Forever 21, and yellow low-top Vans.
Manahil says that her fashion can range very much throughout the school year. Some days she wears a more casual look, or a more street-wear look. "I just love expressing new ideas through [fashion]."
On her thoughts about fashion, she says that it all comes down to creativity. "You can put any two [pieces of] clothing together and come up with something new everyday." She also said that it is a way to express one's feelings. "It can be an outlet for self expression and empowerment…[for oneself] and others."