Blood Drive On the Go
Here at Woodbridge High School, the National Honor Society is hosting their annual Blood Drive on January 25th. Faculty and students have gathered to help this cause by collecting blood with the American Red Cross to go to those in need.
Senior Ikmat Ibrahim is one of the many NHS members assisting this year with sign-in and blood donations. This will be her first time helping at a drive and she says, "I'm excited to see who comes through those doors."
In order to be apart of the blood drive, you must age 17 or be 16 with parental consent. Once signed up, students who pass a brief interview process will have one pint of blood drawn from them. Ikmat, who will not herself be donating, believes that this donation plan benefits both sides. "It will help those who need the blood," she says.
Senior Donald Luxama also has stated that it was his first time as well for participating in the blood drive. "You never know the true outcome of doing such a deed for another person who you might not even know," he says. Donald believes that the blood drive allows people to volunteer and do something that might not seem as serious to them, but may be life-changing for another person.
Donald will be assisting but, like Ikmat, he will not be giving any blood himself. What he can be seen doing the day of the drive is helping members of the American Red Cross withdraw and stock donor blood.
This year will be Ms. Russel's first time running the blood drive. Russel, a history teacher and NHS advisor, expects the drive to be very successful. She plans to welcome close to 100 staff and students to donate to the event.
Ms. Russel believes that everyone will be benefiting in this event, whether they are donating blood or receiving it. Just one person who donates a single pint can help up to three other people. With constant blood shortages across the nation, the WHS blood drive will surely help to aid the problem.
Aside from the drive coming up this January, there will be a second occurring in June allowing for another opportunity to donate. Woodbridge Barrons greatly look forward to participating in such a respectable event.
About the Writer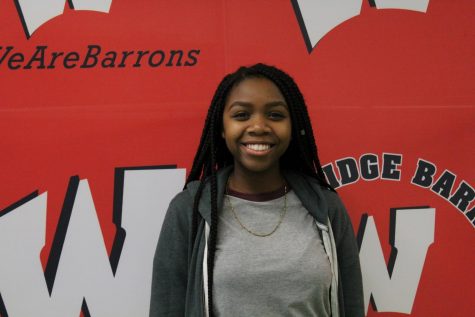 Silvia Kariuki, Reporter
Silvia Kariuki is a 16 years-old girl. She was born and raised in Woodbridge, New Jersey. She was Kenyan. She speaks a little bit of Swahili, and very...