Woodbridge High School Clubs Struggle To Create Sense of Normalcy
Amidst the COVID-19 pandemic, Woodbridge High School clubs have struggled with creating a safe environment for both students and advisors. It has become difficult for students and club advisors to connect and create while the pandemic continues. 
Tamia D'Argenio is a senior at Woodbridge High School, and the vice secretary for Art Services. One of her concerns lies in maintaining social distancing when the club will meet in person.
D'Argenio said, "I would want us to follow all of the regulations for in person meetings [wear masks, 6ft apart, hand sanitizer, etc.] and have Zoom meetings whenever we discuss ideas rather than everyone being in the same room." 
Clubs have been having difficulty reaching out to students and maintaining the same environment they would have if they were in person.
Mr. Terrell is a theatre arts and philosophy teacher, and the co-director of the Drama Club with Mr. Lynch, and English teacher. Drama Club has been carrying out meetings on Tuesday afternoons since the school year began.
"We started in September this year with an average of 12 to 15 participants on Zoom. Keep in mind that without being in school, it was difficult to get the word out to new freshmen that we even had a Drama Club," he said.
"Due to COVID," Mr. Lynch said, "we've been having our meetings via Zoom. We can still learn theatre techniques, do warmups, and work on scenes, even though we look forward to doing them in-person again when we can."
The Drama Club has been carrying out fundraising activities, as well, which have been successful despite safety precautions. The Drama Club's annual Broadway Night, which involves alumni and current students, was held outdoors at the Mayor's concert stage behind the high school.
Clubs throughout Woodbridge High School have become more active through applications like Zoom and Google Meet while Woodbridge High School is on full remote instruction.
About the Writer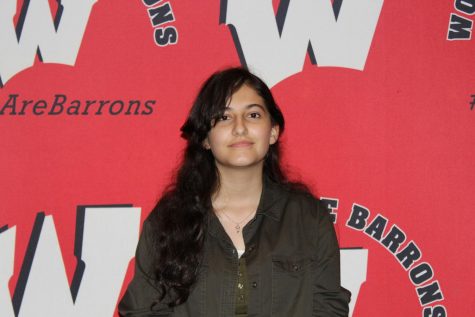 Kanwal Chohan, Editor
Kanwal Chohan is a senior at Woodbridge High School. She plays tennis for Woodbridge High School. Her favorite subject is history and she enjoys reading...