Mr. Jago Talks about Graphic Novels Course
As the end to the 2020-2021 school year is approaching, scheduling for next year has begun. Mr. Jago teaches the Graphic Novels courses at Woodbridge High School.
The Barron Perspective: What is your name?
Mr. Jago: Mr. Michael Jago.
BP: How long have you been teaching the graphic novels class?
MJ: This will be the 4th year that I have been teaching Graphic Novels.
BP: How long has the Graphic Novels class been offered at the high school?
MJ: The class has been offered for the past three years.
BP: What semester is this class offered in?
MJ: The class has appeared in both Fall and Spring semesters. This year it is in the Spring.

BP: How many students do you usually have per semester?
MJ: Roughly 15-20, but I would love as many as I could!

BP: Why do you think students should choose to take the Graphic Novels course?
MJ: I think Graphic Novels provides a great alternative medium for reading. There are some great characters and stories in graphic novels, and I love being able to share those stories with students every year.

BP: What will students learn in this class?
MJ: You will learn the basics of graphic novels, read stories that deal with Super heroes, World Issues, Historical Events, and you will even learn how to create your own graphic novel at the end of the class.
BP:  What do you enjoy about teaching this course?
MJ: I am very passionate about graphic novels. I love reading them and am a huge fan of the characters created through the medium.
BP: Are there any prerequisites required to take this elective?
MJ: None! The class is open to all grade levels.
BP: What students would gain the most from this course?
MJ: You will gain a better understanding of a growing medium in literature, as well as learn new ways to express through art and writing.

BP: How will this class benefit students now and in the future?
MJ: The class will hopefully spark a new love for graphic novels and comics.

BP: Anything else you would like to add?
MJ: Sure! The course is one of my favorites to teach every single year, and even if you have no background in graphic novels, the class can still be beneficial to you.
About the Writer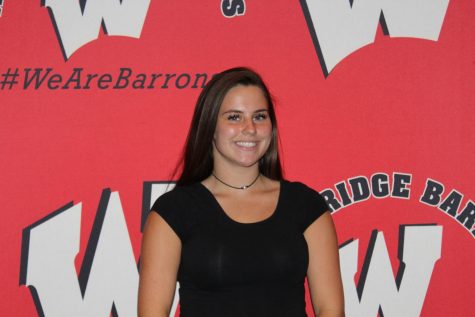 Meaghan Motz, Editor
Meaghan Motz is a senior, and this is her third year writing for The Barron Perspective. Meaghan is a softball player. She grew up in Woodbridge with her...