Weekly Perspectives with Nigel and Jack Debuts
The Barron Perspective has recently added a podcast to their school media platform which will showcase student-athletes.
Woodbridge High School's newspaper, The Barron Perspective, presents their viewers with periodic news articles about school-related events. In addition, it presents Barrons' sports scores, school events, Words of the Day, polls and puns for their readers to enjoy. However, recently, they have added a podcast to their media content.
Weekly Perspectives with Nigel and Jack released their first episode on December 30 which starred senior Charles Sulse.  During this interview, Charles talked about his football accomplishments and how the overall 2018 season went.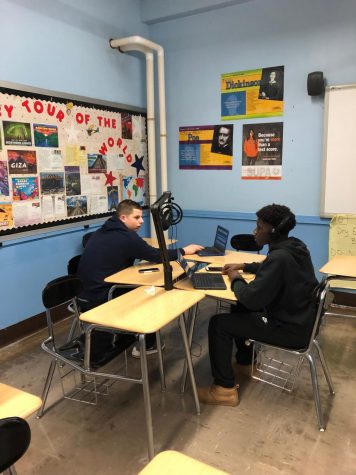 Seniors Jack Golden and Nigel Pala are eager to present the first podcast for Woodbridge High School. However, recording the episodes is no easy task. "We have to write the script and then record everything," Golden explained. "The script usually takes two days to write, then one day of recording and two days of editing."
Pala is optimistic that The Barron Perspective will become a more advanced media outlet because of the podcast. "Every school has writing, but not many schools have expanded to podcasting," he said.
"It sets the foundation going forward for this program and that's what it is going to bring." Along with podcasting, Pala hopes the school newspaper will begin to implement videos as well.
Mr. O'Halloran, the supervisor of the school newspaper, believes that it is vital for journalists to understand broadcasting. With this belief, he pitched the idea of a podcast to the district."Podcasts have been a growing segment in the last number of years. It just makes sense that we pursue that avenue in order to grow our organization."
Mr. O'Halloran has given Nigel and Jack all the creative power to record the podcast the way they see fit. He described Nigel as a "great asset at helping writing the script and interviewing people." While Jack has been "really adept at making sure things are edited properly."
The Weekly Perspectives with Nigel and Jack will be available through Google Play Store, iTunes and Podbean. Episodes will be released to the public every two weeks.