Mr. Switek to Teach New Memeology Course
Woodbridge High School will introduce a new elective course, Memeology, that will be taught by Mr. Switek, English 2 and AP Language teacher, in the 2019-2020 school year.
Mr. Switek said the course will offer studies on "literature-based memes, history-based memes, pop culture-based memes, and Pepe."
"I did not give them much of a choice [when it came to students approving the course]. I send daily meme-based emails to the administrators, and my family was sick of me talking about it, so it all worked out." said Mr. Switek, who has been teaching at WHS for 18 years and is "excited" to be teaching this new course.
He also feels that this course is a "perfect fit" for him since the word "meme" was coined in 1976 by Richard Dawkins, the same year Mr. Switek was born.
"There are new memes practically every day. How could we not teach this kind of stuff to students? I mean they're on their phones already in class looking at memes," said Mr. Switek. 
Mr. Switek hopes that the love of memes spread to "all the schools of the land."
Hiba Babekr, a sophomore at WHS, plans on taking the Memeology course. She considers herself a "meme connoisseur" and that this course was made for her.
"I would like to analyze classical memes such as 'So you just gonna bring me a birthday gift on my birthday to my birthday party on my birthday with a birthday gift?'. I personally believe this particular meme has so much meaning, that Shakespeare himself would be rolling in his grave from the power of [this] statement."
Hiba believes that this course will only bring good to the students and school in the following ways: this course will bring students closer, and improve participation and group work.
Emily Carlson, another sophomore at WHS, said she plans on taking the course, as well. She hopes to learn everything she can about memes from this course.
Emily wants to learn more about the origins of many memes and how to identify where the meme originates from. One that interests her the most is the Pepe meme: "where did he come from, was he a creation by the government to make us not worried about global warming or how people aren't vaccinating their kids."
She told the Barron Perspective that it's going to be a "great" course to have at WHS. Especially since she has been considering majoring in memeology at The University of Memes in West Virginia. "I definitely will be ahead of the game when I take this course in college," said Carlson.
With Woodbridge High School's plan to add this new Memeology elective, students are spreading the word and are filled with anticipation.
About the Writer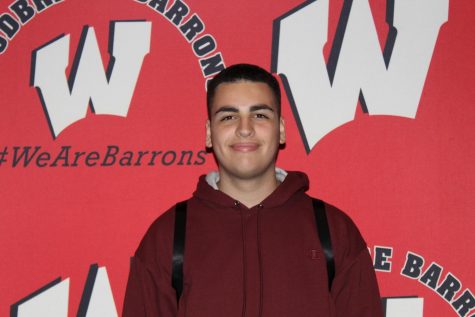 Diego Rolon, Editor
Diego Rolon is a senior at Woodbridge High School and a third-year Journalism student. He was born and grew up in Puerto Rico for a year and then moved...