I Think We're Falling in Love With IGOR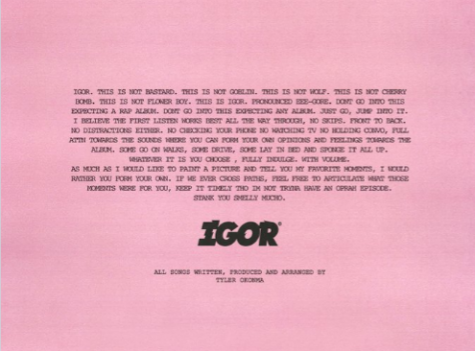 Tyler, the Creator uploaded this image to his twitter on May 16th prior to dropping his album the next day. IGOR is popularly listened to by all different age groups all over the world.
Tyler Gregory Okonma or known as Tyler, the Creator has dropped his fifth album IGOR on May 17th. The 28 year old He grew up in Ladera Heights, California. The young versatile artist has 5 studio albums and has won the award presented by MTV which is best new artists in 2011.
IGOR consists of 12 songs. His second song Earfquake on the track list gained a spot on Billboards hot 100 list, sitting on No.13 as well as seven other songs. Over the course of his music career, Tyler's style has certainly change. His music started off from aggressive hardcore music with disturbing lyrics targeting the LGBTQ+ community for example in song titled "Who Dat Boy" where he says:
That cherry be the bomb like he ran in Boston
Won't stop 'til the cops surround him 
Since Flowerboy, his lyrics have drastically changed to a lighter felling. For example in the song "Where the Flower Blooms" he writes:
Tell these black kids they can be who they are/ dye their hair your hair blue/ s**t, I'll do it too
IGOR has similar heart felt lyrics like in the song, "Puppet" where he writes:
What is your wish? It can be granted. You're number one, one on my list 
Although Tyler had not come out and directly stated what the album is about and what each song means, many fans have universally concluded it is a love story from the character IGOR.
My personal favorite songs are RUNNING OUT OF TIME and I THINK. Those songs give me good, sad vibes and it sounds beautifully composed.
If you're a fan of Tyler's you have either come to appreciate the album and can't wait for more music. Whether a new album or song drops or its been 5 years, one thing his fans can agree on is that no matter when a drop is coming and whether is kind of a surprise (like IGOR) it'll be worth it.
Listen to IGOR now on Spotify and Apple Music.