WHS Hosts a Successful Spirit Week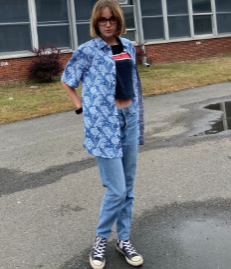 From October 7th until the 11th, Woodbridge High built up spirit and morale in the school with the annual Spirit Week. Each day had a designated theme where all of the students were welcome to participate to prepare for the homecoming football game.
On "Movie Monday," students dressed as a TV or movie character. On "Tropical Tuesday" students wore Hawaiian clothing. "Wake Up Wednesday" was when students wore pajamas and "Throwback Thursday" brought everyone through the decades. Finally, Friday had everyone wearing pink for the breast cancer awareness homecoming football game.
Spirit Week was arranged in a different way than last year. Other than the different themes, this year's Spirit Week was student-produced. Last year, it was teacher-created.
Senior Class officer, Madison Carral, and the senior class worked hard on establishing creative and interesting themes that are enjoyable and attention-grabbing.
"Being a senior, I've seen that, throughout my first three years of high school, the school hasn't had a lot of spirit," Madison said. "Some people think that it's not 'cool' to do Spirit Week." Being aware that it was student-produced, it seemed more interesting to the participants.
Mr. Switek has been Senior Class Advisor for ten years and has been in charge of organizing Spirit Week for four years. He plans on continuing this event every year.
"I hope that each day we get more students participating. But ultimately, even some students doing it is a success for me," Mr. Switek said, "I also hope that the new themes are more straightforward and understandable, since last year, a few of the themes were confusing to the students."
The purpose of Spirit Week is to get the majority of the students involved. In addition, it can make a positive impact on the school.
Madison thinks that this occasion will give the participating students something to look forward to and out of the tedious routine of school. She said, "It can also be important to students who are not in any clubs or sports."
One of the most enthusiastic participants in this year's Spirit Week was sophomore, Alyssa Koenig. 
"I chose to volunteer in this event because it lets me show more of my personality," Alyssa said. "The different themes and its corresponding outfits make Spirit Week so interesting to the students."
Woodbridge High School's Spirit Week was a success by many standards, allowing all students to present their creativity, personalities, and uniqueness through fashion.