WHS Bowling Team Strikes a New Season
Woodbridge High School's Bowling team is about to begin the 2019-2020 season. Last year, both teams finished with a winning record: the boys finished with a record of 15-2 and the girls finished with a record of 15-1-1. 
Previously, the Woodbridge bowling team was coached by Coach Small, who is temporarily absent due to her pregnancy. For the time being, the team will be coached by JFK teacher, Coach Palombo. "It will be a pleasure to serve as the Woodbridge Boys and Girls bowling Coach," Coach Palombo said.
Coach Palombo has a wide variety of coaching experience at different schools including, 13 years being the varsity bowling coach at Bishop Ahr High School and 14 years coaching bowling at JFK Memorial High School. He also served as the varsity girls and boys varsity soccer coach at Bishop Ahr and the varsity golf coach at both JFK and Bishop Ahr.
Coach Palombo has set expectations both for himself and this year's team. "I hope to help our teams maintain the level of statewide excellence that Woodbridge High School has continuously demonstrated in past years," Coach Palombo said. " Our teams will strive for continued excellence and will be poised to compete for division, conference, invitational, and state championships."
Team members Leah Gautier and Jason Bilawsky have also set high expectations for the season.
Senior Leah Gautier said, "My expectations for the team is that we shoot nothing under 850 each match."
Senior Jason Bilawsky said, "I have set high expectations for the team. Just because four seniors graduated does not mean we can't compete, and I plan on this team still being a team to watch for the year. I want to continue what we started last year. Last year we fell just a little short in the Tournament of Champions, and this year I hope to win."
The Woodbridge High School bowling team has their first match on November 25 at Woodbridge Bowling Center. Coach Palombo, as well as the players,  are looking forward to the season, and are hoping for a successful outcome.
About the Writer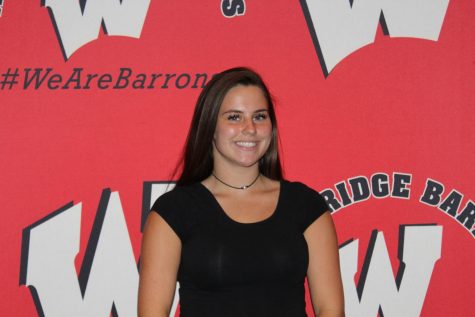 Meaghan Motz, Editor
Meaghan Motz is a senior, and this is her third year writing for The Barron Perspective. Meaghan is a softball player. She grew up in Woodbridge with her...