El Dorado Encourages Creativity from WHS Students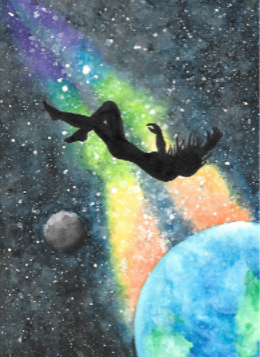 El Dorado is Woodbridge High School's annual publication that turns the spotlight on its students and their creative talents. This literary and art magazine welcomes all forms of artwork from students of all grade levels, such as poems, short stories, pen and ink drawings, and digital photos.
El Dorado gives the students a platform to express themselves through their ideas and their artisanship. In June 2020, it will be issued and available for purchase. Students will be able to share them with their friends and families.
English language and SUPA teacher, Mrs. Kreisel has been the advisor of El Dorado for more than 10 years. The title of this magazine is derived from the poem Eldorado by Edgar Allan Poe. 
"The purpose of this magazine is to provide an outlet for our students to share their creative writing, their art, and their digital photography with their school community," Mrs. Kreisel said. Her favorite parts about working on El Dorado are witnessing the process of the staff discussing the artwork, working with her students, and feeling rewarded after looking at the finished product.
The student staff of this literary and art magazine meets every other Thursday to work together to consider each of the submitted work then choose which will be in the next issue of El Dorado. Junior and new member of El Dorado, Kanwal Chohan, was most interested in the art portion of this publication and its positive impact on the students.
Senior editor Juliana Hays said, "I recently joined the WHS publication with interests in writing and poetry, and I was most interested in what the other students were capable of."
The impact that she thinks is made on the students with El Dorado is how it gives them a voice. Juliana Hays said, "A lot of people are shy or can't speak up for themselves. This is a way to showcase their creativity."
The theme of this school year's publication will be "Voyage Through the Mind." Mrs. Kreisel, and the El Dorado staff look forward to their 76th edition.