Varisty Team Makes History For WHS Football
The 2019 varsity football team has just made history finishing their season with 10 game winning streak falling short at the state championship game.
The varsity team has had many accomplishments this season including setting a record for the most victories in a season, receiving the first division title since 1993, and making it into the sectional final since 1997.
This season played in the blue division against teams such as Colonia, New Brunswick, and South Plainfield.
Coach LaSala said, "It's bittersweet that we came up that close to one of our important goals, it's disappointing we weren't able to get that done. But when looking at the overall perspective we had a tremendous season." 
 "A fan bus was provided for students and parents that took them to the state championship game at northern highland school,"  Mr.Ward said. "It's the best response we have received, the students are excited." The bus was for convenience and to promote school spirit. 
We will be saying goodbye to our seniors this season. Coach LaSala said, "I would like to thank them for their commitment and their selflessness throughout the season. I hope that they're able to leave Woodbridge high school football with a good experience as they move to their next chapter." 
From this season, Wide receiver Bernard Okonkwo has learned to work hard and believe in himself. Okonkwo said, "Next season I plan to be a better teammate and try to be better on the field and not just for myself, but for everyone else on the team."
The Barrons' plan is to set the groundwork by practicing harder during the offseason in the weight room. Quarterback Anthony Santino said," We will work harder than last season continuing to become a family. We will build on what we did this year  and end the next season strong."
Coach LaSala wants to thank the community and all the parents for the support, "I think Woodbridge football has really headed toward the right direction, and I'm excited for the future."
About the Writer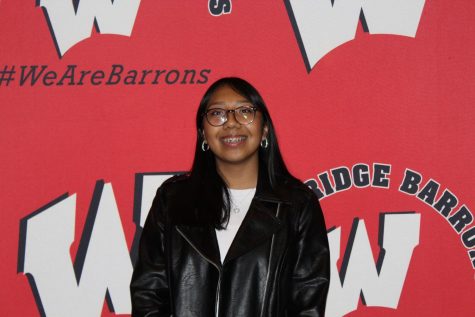 Noemi Grande, Reporter
Noemi Grande is a sophomore at Woodbridge High School and a first-year journalist. She is a swimmer for the Woodbridge High School team and her favorite...