Kona Grill Consumer Report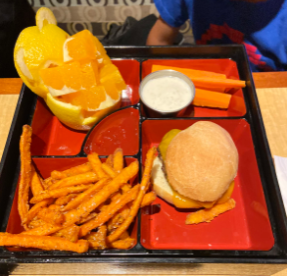 Kona Grill is an American restaurant with a remarkable specialty for its ambiance, sushi bar, hand-crafted cocktails, and delicious food made from scratch, using their freshest ingredients. Kona Grill has a comfortable atmosphere with attractive decorations, nice furniture, and a clean environment. My family and I were all satisfied with the service and the food. 
Their umbrella-shaped lights emanate in each section and create a warm glow over each table and booth. There are TVs surrounding the bar, neon blue walls with oceanic designs at the sushi bar, and a fish tank when you first walk in.
From my experience, the kitchen staff takes about half an hour until the food arrives at our table. The wait staff is friendly and delivers the meals promptly and professionally. This professionalism was displayed when a waiter saw a dirty appetizer plate, brought it back to the kitchen, and retrieved a new one.
Along with serving flatbreads, sandwiches, and sushi,  some of their universally inspired entree options consist of Jambalaya, Miso-Sake Sea Bass, Pad Thai Noodles, and Macadamia Nut Chicken. The food is well-prepared, neatly presented, and delectable.
I always order their Cilantro-Lime Grilled Chicken where they usually place a lime for the customer to squeeze their desired amount onto the chicken. During my second visit, there was one very minor incident that I experienced where the chef seemed to have forgotten the lime. However, it still tasted delicious either way and was cooked perfectly.
Kona Grill is an American restaurant located at 511 US-1, Woodbridge Township, NJ 08830 and is open from 11am to 11pm on Sundays through Thursdays and 11am to 12am on Fridays and Saturdays. Established in 1988 in Scottsdale, Arizona, this restaurant offers reservations and online orders along with hand-selected meats, produce, and fish from trusted shipments. Their price ranges from around from $6 to $29.