Students Take Virtual Field Trip
Mr. Picciano and his students decided to get a fresh perspective on nature despite the urge from the government to stay-at-home. 
Early yesterday, Mr. Picciano, also referred to as Mr. P., took his students on a virtual field trip, to a park local to his home, to talk about nature and how it has "flourished" in the time people have been stuck at home.
Students were excited to see what would happen, as well as to see the outside world for the first time in months.
Mr. P. left his home at the beginning of class on a Google Meet call with his students. According to students on the call, he said, "You guys need to get out of the house more," and "kids these days are too addicted to their phones."
Unfortunately, while making his way to the park, he was "splashed" by a car driving through a puddle of water. Even though he was covered in water, he continued to his destination.
Once he arrived at the park, he began to describe ecosystems and how the lack of people in parks allowed animals to reclaim some of the land once heavy with foot traffic. To get a closer look at the wildlife, he leaned into the foliage, only to stumble forward and fall in the grass.
Mr. P. insisted he was alright and that he could keep going. He moved deeper into the woods where he spotted a wasp nest. While looking up and cautiously walking past, he steps on a branch, "spooking" a nearby skunk.
At that moment, Mr. P. decided it was time for him to go home. During his walk back, he rambled on about the dangers of nature and how students should proceed outside with caution. When he arrived back at his house, he dismissed students from his front door because he had left his keys inside and locked himself out of his house.
"I haven't needed keys in months. I don't even remember what the hide-a-key looks like," he said before adding, "I think I'll teach class from home for now on."
One student said, "This was the best class I've had all semester. I wish we could go on more trips like this in all of my classes."
Another student said, "Woah, no way! I didn't see it. I was making myself lunch."
About the Writer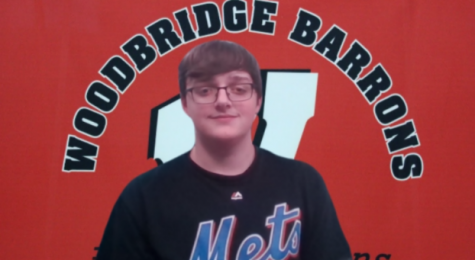 Ryan Fijol, Editor
Ryan Fijol is currently a Senior at Woodbridge High School. It is his second year as a Journalism student. He grew up in Fords with his mother, father,...