WHS Senior Has Phone Confiscated by Mother During AP Lit
Although Woodbridge High School is still following a remote learning schedule, the school rules and regulations are still to be followed. This includes the cell phone policy.
Many students become distracted with their cell phones while participating in virtual learning. Senior Kamil Lemdani, has especially struggled with social distancing from his phone during school.
Kamil Lemdani on his phone watching the Buffalo Bills highlights during AP Literature class, when his mother walked in his room and confiscated his phone for violating the school's cell phone policy.
"I honestly didn't think it was that big of a deal. I have mastered multitasking, and am a professional and paying attention in class while simultaneously watching football," Kamil said. 
Mrs. Lemdani was extremely disappointed in her son, when she caught him doing such a terrible thing. Kamil said, "She had that motherly look in her eye that only appears when I do something wrong."
"I don't understand why he thought he would be allowed to disobey the WHS cell phone policy just because he was at home. I mean, he is still in class," Mrs. Lemdani said. She felt that Kamil should "be more engaged in the lesson."
He explained to his annoyingly concerned mother that he is allowed to be on his phone. Kamil said that he had  already finished all of his work."
Mrs. Lemdani responded by reciting the Woodbridge High School cell phone policy and demanded he give his phone to her, to which Kamil objected.
"I did not care about his reasons, and I demanded his phone once again," she said. "It was no easy task, but Kamil eventually handed over his phone."
Kamil had forgotten that he left his camera and microphone on during the argument. He blankly stared at the screen after he realized the scene had played out in front of his class.
The whole class was watching as Kamil's mother walked out of his room with his phone. Some students had shocked looks on their faces while others began to laugh.
AP Literature teacher Ms. Hain said,"Your mom is awesome." She then proceeded to shout after his mother, "Thank you for keeping him in check!" 
Kamil quickly looked back at his Chromebook and in abject horror. He muted his microphone and turned off his camera before being reminded by Ms. Hain that if both his camera and microphone are off, he will be marked absent from class.
Sheepishly, he turned it back on for the remainder of the block, after which, he apologized to his mother at Ms. Hain's insistence. Kamil's phone was returned after dinner, when he took the trash out and scrubbed the dishes.
About the Writer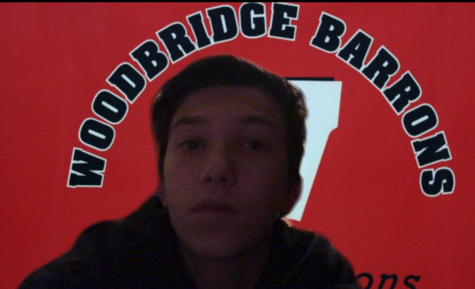 Jason Linder, Reporter
Jason Linder is a senior at Woodbridge High School. This is his first year as a journalism student. He enjoys writing about sports. He is eager to begin...