Gym Teacher Pulls Muscle Taking Attendance
During the past school year, COVID-19 has had an outsized impact on Woodbridge High School's most important class: physical education.
During phys ed classes, all students are encouraged to exercise, which all students are absolutely doing. However, the teachers have to be able to stay active, too.
Currently, with online classes, gym teachers take attendance and then allow students to log off so that they can participate in a physical activity. However, some students' physical activity consists of watching TV or playing video games.
Before the pandemic, gym teachers had a very tough job. They had to be the kickball pitcher, and keep score of all of the volleyball games. 
Incredibly, this required a four year degree, which many people had to take on thousands of dollars in student debt to acquire. 
One of the very few upsides of being a gym teacher is that they are able to move and stretch during the day. On Zoom, however, they are not able to do this while they sit on their couch. 
Coach Casey, a man who no longer coaches, has been in a sling for two weeks because he pulled a muscle in his arm taking attendance.
"I used to play football in high school and I never got hurt. I feel so soft for this. My wife keeps making fun of me and my daughter is wondering how this even happened."
Coach Casey had to tell her, "The only thing I do as a virtual gym teacher is take attendance. It's a difficult and physically demanding responsibility, but quite honestly I am also unsure how this happened."
Some of Coach Casey's students hate to see him like this in class, because they feel bad for him. Others find it hysterical, and cannot believe such an injury is even possible from working on the computer. 
Senior Eric Dominguez has Coach Casey for gym and he was disappointed to see one of his favorite teachers like this.
"He used to be someone that I looked up to, but now I am scared to even say I know who he is. It is embarrassing not only for the school, but for gym teachers around the world. I mean it is not like they are real teachers, anyway," Eric said.
Coach Casey will continue to work on his computer until it is safe to come back to school. The Barron Perspective wishes him a speedy recovery for not only his arm, but also his ego.
About the Writer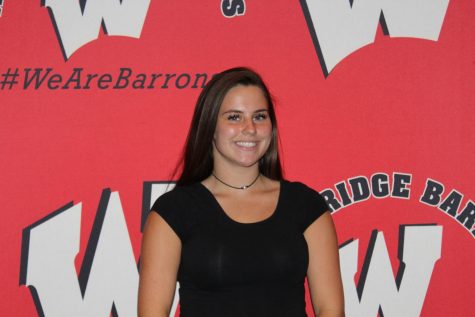 Meaghan Motz, Editor
Meaghan Motz is a senior, and this is her third year writing for The Barron Perspective. Meaghan is a softball player. She grew up in Woodbridge with her...