WHS Takes Start Strong Assessment Again
Moderating the state of students' educational knowledge from the COVID-19 pandemic, Woodbridge High School students will again take the state's Start Strong assessment.
Students are testing on the subjects of mathematics, science, and English. The grade and classes a student studies affect what tests they take.
Starting Wednesday the 28th, 9th and 12th grades will take science exams.
On Thursday the 29th, students in Algebra 1, Geometry, and or Algebra 2 during the school year are testing.
The final day of testing will be Friday the 30th, seeing 9th and 10th graders tested on ELA.
Through the testing period, 9th and 10th graders will report to their homerooms every day.
On the 28th and 30th, 11th graders will report to the Auditorium. For those in either Algebra 1, Geometry, or Algebra 2, their homeroom on the 29th.
Seniors all will report to their homerooms on the 28th. On the 29th (if not enrolled in the aforementioned math classes [they will go to D23]) and the 30th, they will report to the gymnasium.
The schedule for the testing days is located below.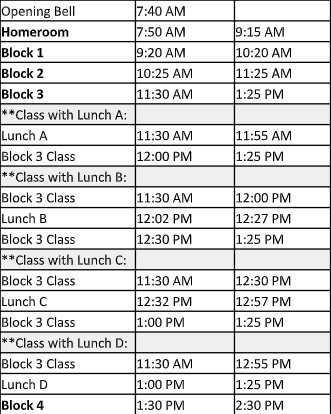 Nationwide, schools are seeing a decrease in students' skills in all subjects. This is blamed on the struggles and limitations of virtual learning, as previously reported on by Barron Perspective.
The results of Start Strong will be used to track the long-term effects COVID-19 had on the state's young knowledge, showing how deep the problems it brought go.
Additionally, on top of education, students have also "lost years" of socialization skills from the lack of face-to-face interaction that schools foster.