College Football Playoff Recap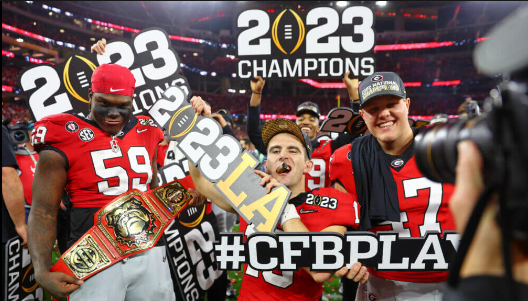 The College Football Playoff had a lackluster finish but was filled with competitive matchups all the way through. The Georgia Bulldogs won the college football championship in extreme fashion against the TCU Horned Frogs.
Georgia recorded the biggest blowout in College football championship history with their 58-point win.
The path to get to this point wasn't easy for Georgia though. It came down to the wire for them to win their previous win 42-41 against Ohio State who missed a field goal that would've won and advanced them.
Though TCU had a poor championship showing. They showed out in the round before to claim a 51-45 win against Michigan.
Georgia is looking like the future dynasty of college football after they repeat this year. Star D-Lineman Jalen Carter led the defensive side of the ball this year. Alongside other key players such as Kelee Ringo Soph CB, the linebacker duo of Nolan Smith Sr. and Smael Mondon Soph and the safety duo of Tykee Smith Jr. and Christopher Smith Sr.
On the offensive side of the ball, Stetson Bennett Sr. QB who looks to enlist in the NFL draft this year looked to throw to his playmakers, the Tightend duo of Brock Bowers Soph, and Arik Gilbert Soph. Alongside the run game attack of Kenny McIntosh Sr. and Daijun Edwards Jr.
TCU relying on the connection of Senior QB Max Duggan to Jr. Receiver Quentin Johnston and Jr. Receiver Taye Barber.
With key defensive players Tre'Vius Hodges-Tomlinson Sr. CB, Dylan Horten Sr. DE, Dee Winters LB.
Ohio States loss is an upsetting one as they have the best and most NFL ready receiver Marvin Harrison Jr. He will be back for Ohio State this year as he is not eligible to enter the 2023 NFL draft.
Georgia looks to be the new king of college football but anyone can de-thrown them in years to come.