Boys' Tennis Serves Up Another Season
The Woodbridge High School boys' tennis team has begun their season with a 2-7  record, but they are working hard to get the wins in their favor.
Last year, the Barrons finished their season with a winning record of 11-10 and qualified for the state tournament. Coach Mortensen, who is on his fifth year coaching the Barrons' tennis team, has set a goal for his team to qualify for states again
"I have always been into racket sports and have played tennis since I was a teenager. Even though I never played competitively, I always enjoyed going to the courts and hitting around," Coach Mortensen said. "I've  always enjoyed coaching and teaching the sport, and on the tennis team you always get motivated and enjoyable student-athletes to coach."
Coach Mortensen said, "Expectations every year are to make sure we are competitive every match with improving as an individual and team as the year goes on." 
Furthermore, the players have set individual and team goals. "Some team goals include having everyone practice and play hard. As long as we all give our best, I'm happy with whatever result we get," said sophomore Noah Monsanto. "And for myself, my goal is to go deep in the county tournament and make the quarterfinals of states. And again, my main goal is to just go out there and give my all, no matter what result."
"My main goal is to just enjoy playing tennis," senior Ryan Silva said.
The Tennis team practices every day and are about halfway through their season, securing wins over St. Joes and New Brunswick. Ryan Silva and Noah Monsanto look forward to playing JFK, Highland Park, and East Brunswick.
 "I look forward to playing JFK because I made friends with some of the players on the team in years prior," said Ryan Silva.
"I look forward to playing Highland Park and East Brunswick because the first singles players on those teams are phenomenal, and I know playing them will help me improve and know where my game's at. I already played Highland Park, and we had a marathon of a match which is something I'll always remember," said Noah Monsanto.
Ryan Silva and Noah Monsanto plan on playing tennis after high school.
 "I do plan on playing tennis with my girlfriend in our future, as it is something we both strongly enjoy," Ryan Silva said.
Noah Monsanto said, "I plan on playing college tennis, but I decided that I will not be pursuing a career out of tennis. There is just too much competition and so many phenomenal players that are better than me. It's just not something I will be doing for life."
Altogether, Coach Mortensen and his team are looking forward overcoming any future challenges, and finishing of the 2019 season strong.
About the Writer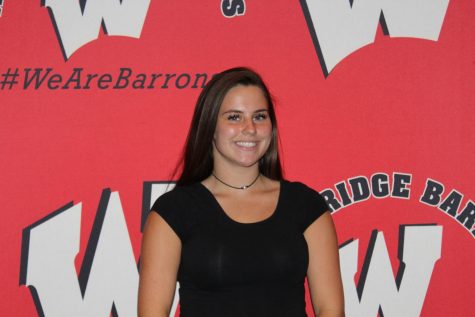 Meaghan Motz, Editor
Meaghan Motz is a senior, and this is her third year writing for The Barron Perspective. Meaghan is a softball player. She grew up in Woodbridge with her...