Coach Small Organizes Marisa Tufaro Fundraiser
The Marisa Tufaro Foundation is a foundation that assists pediatric patients and other children in need throughout Middlesex County. Mrs.Small, who has a close relationship with the Tufaro family, organized a bowling tournament and toy drive to support the foundation.
Marisa Tufaro was born with a hypoplastic left heart syndrome which required her to get six open-heart surgeries. During the process, Marisa developed two life-threatening conditions known as protein-losing enteropathy and plastic bronchitis, which eventually required her to receive a heart transplant. Marisa tragically developed a rare form of cancer that took her life at the age of 13.
"Her father Greg Tufaro is a sportswriter for the home news tribune and one of the nicest people in this world and used to cover bowling while I was in high school," Mrs.Small said. "When I learned about the tragic passing of his daughter I wanted to start something to give back."
The Woodbridge High School bowling team helped their coach Amanda Small promote the tournament and toy drive.
Samantha Leonard, a junior bowling team member, said, "The event itself was coordinated by Coach Small, but the team did help spread the word about the tournament and the toy donations. I firmly believe that us spreading the word about the toy drive for The Marisa Tufaro Foundation, even more, this year helped us receive more toys than we did last year."
Not only did the team help with the promotion of the event, but they also participated in donating toys and bowling in the tournament. Both Samantha Leonard and Jason Bilawsky donated multiple toys to the toy drive. 
Senior Jason Bilawsky said, "I enjoy participating because it is a good feeling knowing I was doing something to benefit others. Knowing that families that struggle will have something to give their kid is a good feeling."
Samantha Leonard said," I enjoy the energy that the team and the parents bring to the tournament while supporting us, it gives me and the rest of the team a rush of adrenaline that makes the sport so much more enjoyable."
The proceeds from the fundraiser were donated to the Bristol Myers Squibb Children's Hospital at Robert Wood Johnson in New Brunswick. This year they raised over $3,600, and more than 25 boxes of toys.
About the Writer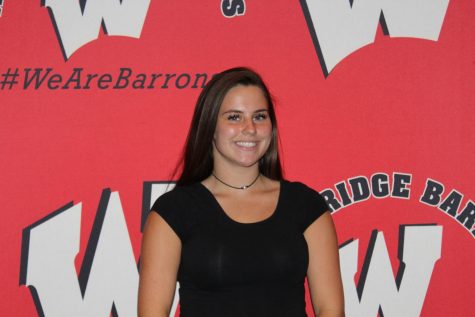 Meaghan Motz, Editor
Meaghan Motz is a senior, and this is her third year writing for The Barron Perspective. Meaghan is a softball player. She grew up in Woodbridge with her...