Girls Tennis "Strikes" Against Opponents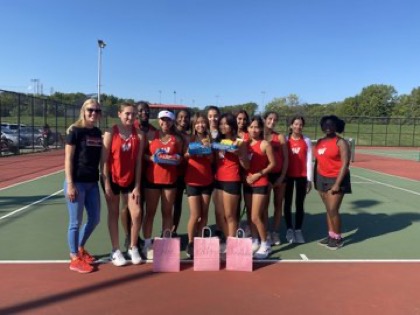 The Woodbridge Barrons Girl's Tennis Team has had an amazing season so far. With an overall record of 11-4 and a GMC record of 9-2.
With one match remaining, they look to win and move on strongly to the Girls Tennis GMC's.
Coach Matusz is in her second year coaching the team, her favorite part about coaching is being able to create a bond with her players. As well as witnessing how well the team gets along and enjoys playing together, she says, "In addition it is incredibly rewarding  to see a player perfect a fundamental skill."
With seniors Katie Nguyen, Stephenie Jimenez, and Jada Williams leaving, the goal for this year was for the girls to improve each day and learn from their mistakes each match
Coach Matusz said "Some players are in positions that they have not been in until this year, so I express the value of hard work and dedication both on and off the courts to ensure success."
"The girls have a tremendous amount of talent. Throughout the season they have continued to work hard and improve each match. We've had our days, but we still look up after win or loss" Said Coach Matusz.
"A season high for this season so far is seeing the girls receive their first varsity wins." "I'm so grateful to be the coach. Regardless of the day, we help each other up, it is a great program to be a part of. Thank you to our seniors for your hard work and dedication to the team" Coach Matusz said.
Aliyah Folarin, junior and current player on the team says, "at first the season was very difficult because I was new to the team and I haven't played in a while. Later on in the season I looked forward to bettering myself for the team and we were very good."
"The GMC's were definitely my favorite part of the year, we had a little picnic before we played and during the event where we sat and watched everyone play their tennis matches and it was great to do as a team."
To read more about Barrons sports, go to Perspectives Sports page archive.